What is Rain?
Home - Education - Precipitation - Rain
An example of rain: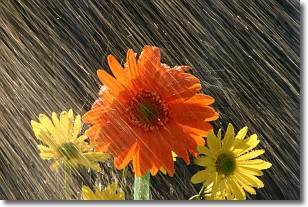 Next Topic: Shelf Clouds

Precipitation in the form of water droplets is called rain. Rain generally has a tendency to fall with less intensity over a greater period of time, and when rainfall is more severe it is usually less sustained.

Rain is the most common form of precipitation and happens with greater frequency depending on the season and regional influences. Cities have been shown to have an observable effect on rainfall, due to an effect called the urban heat island. Compared to upwind, monthly rainfall between twenty and forty miles downwind of cities is 30% greater.

Next Topic: Shelf Clouds
Current U.S. National Radar--Current
The Current National Weather Radar is shown below with a UTC Time (subtract 5 hours from UTC to get Eastern Time).
National Weather Forecast--Current
The Current National Weather Forecast and National Weather Map are shown below.
National Weather Forecast for Tomorrow
Tomorrow National Weather Forecast and Tomorrow National Weather Map are show below.
North America Water Vapor (Moisture)
This map shows recent moisture content over North America. Bright and colored areas show high moisture (ie, clouds); brown indicates very little moisture present; black indicates no moisture.